In this episode I talk you through how to use GSC (Google Search Console) to find your website Google rank and page errors.
Notes
What is Google Search Console (GSC)
Tool that shows data from Google Search Understand how people find you online What keywords get the most clicks Identify problems on your site
Setup and verify
Domain or specific URL
Example mydomain.com for Domain or https://mydomain.com for URL
Prefer verifying with GA
Overview
At a glance look to make sure there are no issues
Performance
Compare traffic you are getting with clicks
Impressions are times snippet show in search results
Clicks are when people clicked through to website
Queries are the search terms people use
Identify traffic issues
Filter on blogs
View traffic to pages. Why lots of impressions but not many clicks
Click URL to filter on specific URL and view queries
View average position, are things headed in right direction
View page snippet and page content, do they make sense
SERPS
What search engine ranking position you are for certain keywords (Add new query)
Add new query for 'marketing club'
Just started optimising. Starting to get impressions but lacking clicks
View page snippet and page content, do they make sense
URL inspection
Make sure a page is indexed and if not expedite indexing
Adding or refreshing a sitemap can also force Google to index your site again sooner that it would otherwise
Check snippets work
Coverage
Start with errors first
Next any pages that are blocked from index
Email domain believed to be from client's posting email link on website
If issues fixed you can re-verify
Excluded pages
* Why are they indexed? Are they linked on your site?
* How to find links that appear on your website site:ratherinventive.com "email.ratherinventive.com"
* This year we changed over the site. Found lots of old URLs still in Google index and have setup redirects to new pages
* Yoast also had an issue where it made all image into pages
Sitemaps
Add sitemaps to make sure google indexes all your pages
Also helps highlight if there are pages in the sitemap aren't indexed
On WordPress Yoast SEO plugin makes sitemap Yoast > General > Features > XML Sitemaps (click question mark), then see the sitemap
Removals
Useful if you must have a page removed from the index
Temporary measure. Make sure the actual content has been removed, marked as 404 or no-indexed
Enhancements
Manual Actions
Make sure there are no penalties against your site
Links & Settings
Interesting to see what domains are linking to you
Add other users. Only give full permission if they really need it
Connect Google Analytics (GA) to GSC
Allows you to view the search data and landing pages in GA
---
Clare Harris
December 24, 2020
Subscribe on YouTube, Apple Podcasts or Android.
This is the second of 6 episodes in which I'll be walking you through the foundation level of my Marketing Strategy. I'm going give you ideas, advice and guidelines in a simple, step by step process that will work for any startup or business new to marketing.
The episodes cover Planning, Stats and Analytics, Website Development, Search Engine Optimisation, Social Media and Business tasks that you need to do to give you marketing strategy a great foundation.
If you want to jump ahead. everything I'm talking about is available online now
ratherinventive.com/marketing-strategy
For now here's part 2 and it's about analytics. Enjoy.
👋 If you found this podcast interesting you might like my Marketing Club. Join to receive regular tips and advice on marketing, video and the web and Pro Members get access to my live marketing webinars every month, exclusive discounts and other perks. Find out more here https://ratherinventive.com/club/
(more…)
Ben Kinnaird
August 19, 2020
A study of behavior (sic) at breakfast buffets showed that the first item in the buffet was taken by 75% of the diners (even when the order of the items was reversed) and that two-thirds of all the food taken came from the first three items, regardless of how long the buffet is.
The study Seth mentions is an interesting read but only cites one small experiment. However I have noticed similar behaviour on our client websites, such as; the first menu items often get the most visits, the first few at the top are clicked on most but, unlike the study, I have no science to support this.
Clare Harris
August 18, 2020
How people find your site, tracking sales and setting up a dashboard.
Notes
Social Media Round Table
What is Google Analytics?
Free tool to track people who visit your website Like a security camera in a shop but not as creepy
 
How do I install Google Analytics? Don't have GA installed?
I'll help you
Book free half hour session

Questions to ponder on
Who uses Google Analytics?

How do you need your site to improve? What information do you need to track?
What are you trying to measure? Sales, Downloads, Form fills?
Social engagement? Best marketing channels?
Overview of Google Analytics (GA)
Key sections
Real-time, Audience, Acquisition, Behaviour, Conversion
IMC7 – Google Analytics – 29 October 2019
Select account – Five key sections
Change date range – Export
Terms you should know
Users: Unique visitors
Sessions: A block of time spent on your site
Bounce rate: A single page visit
Pages/session: Average pages viewed in one session
 How people find your site
Best sources
For new traffic
For new visitors
For people who spend time on your site • Where you money is coming from !
Connect Google Search Console
What keywords drive traffic and SERP
GSC performance
What people do on your site?
Popular pages? Where do they click next?
Tracking conversions
Which sources generated sales? Does Instagram deliver email sign ups?
Segmenting data
View only data from people who buy Or people who who visit key pages
View just the sources where traffic converted
See which landing pages they saw
Campaign URL generator
Get more clarity from inbound links
https://ga-dev-tools.appspot.com/campaign– url-builder/
Setting up a dashboard report
Stay informed with regular updates
Custom dashboard
datastudio.google.com "
Simo Ahava confirms that Safari's 14s Intelligent Tracking Prevention does not blog tracking using GA (via Daring Fireball).
For better or for worse, one of the previews showed that google-analytics.com is listed among the trackers that are being prevented on websites.

Queue panic and the spread of misinformation like wildfire through the dry brush of first-party analytics.
I was under the impression that the forthcoming version of Safari was just ratting out trackers to users not preventing them.
catherineevery
April 1, 2020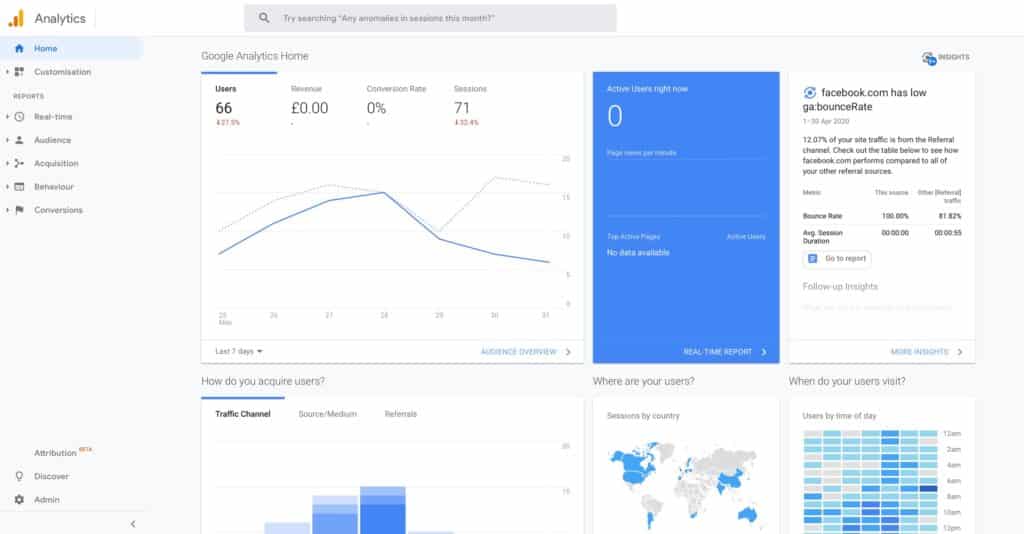 In this post I'll look at how to know what visitors are doing on your site in a whistlestop tour of Google Analytics.
First things first, if you haven't already got it installed, go to http://www.google.com/analytics/ to get it up and running. Google Analytics can provide you with more information than you thought possible and also be a bit overwhelming. But unless you're a marketing wizard, the basics are probably enough for most people, so don't worry!
(more…)
catherineevery
November 17, 2011

Just like every other marketing medium, a website has to earn its keep. The good news is that you can find out a lot more about what  people do when they encounter your website than when they come across your offline marketing messages.
How many people visit your website is just the start. You can also find out:
What they look at
How long they spend browsing it
How many take action after browsing
and more.
And armed with the knowledge about how people are interacting with your website you can tweak it and tweak it until it is getting the response you want.
When we make changes you can:
See if there's been an improvement in how many people visit or how long they spend on your site
Decide if something's worth doing again
Know if the website is bringing in enough revenue by itself (a great position to be in) or if you need to continue a mix of activities (probably the most advisable course).
That's all very well, I hear you say, but exactly how do you measure all this? The chances are that your website provider will have a statistics package, but it may not offer all the information you need.
The solution is Google Analytics. It's free, simple to install (just a matter of copying and pasting some code onto each page of your site) and provides a wealth of information. So if you're not impressed with your stats package or you don't have one, I'd always recommend Google Analytics as the tool to turn to.
Learn more with our Guide to Google Analytics.