In this episode we are joined by IMC Club Member Dave Hargest from Selmach Machinery. During this episode he shares how he used 360 Matterport to create his own 3D Virtual Tour to showcase the companies showroom and boost audience engagement.
(more…)
Clare Harris
October 7, 2021
Subscribe on YouTube, Apple Podcasts or Android.
Ben speaks with Jonathan Mahan on how to be authentic on video and the benefits of engaging your customers with candid videography.
👋 If you found this podcast interesting you might like my Marketing Club. Join to receive regular tips and advice on marketing, video and the web and Pro Members get access to my live marketing webinars every month, exclusive discounts and other perks. Find out more here ratherinventive.com/club/
(more…)
Ben Kinnaird
March 1, 2021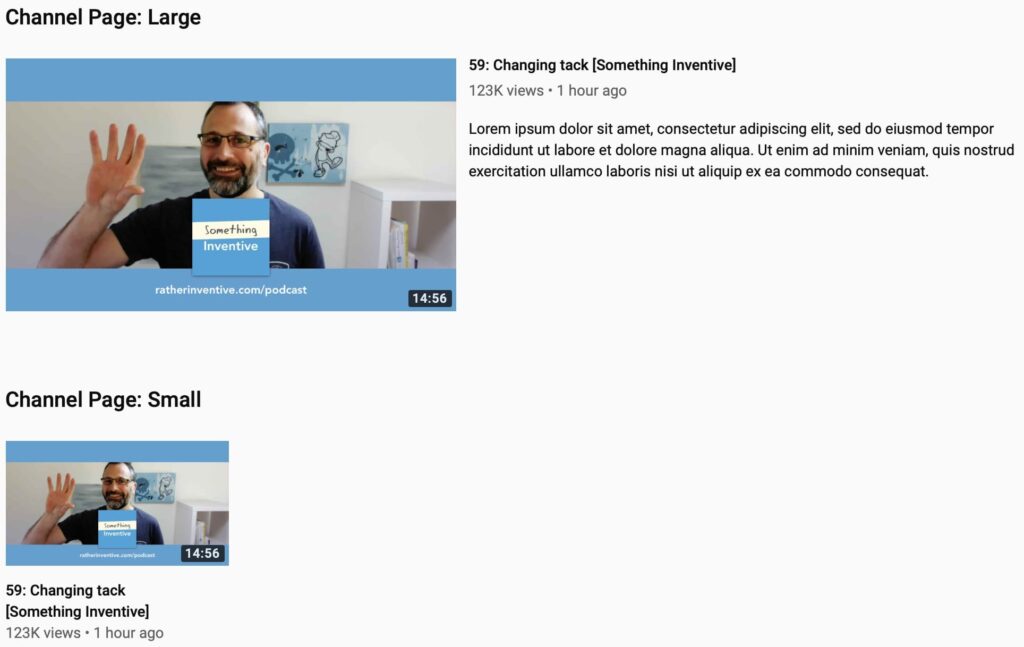 Thumbs Up is a handy YouTube video thumbnail listing preview tool. Use it to make sure your content can be seen at every size and that important text isn't covered up.
Clare Harris
November 17, 2020
Learn why you should start asking for video testimonials. I share my tips on filming & editing including my recommendations on which software to use.
Notes
Why you should start asking for video testimonials
Helping people make a decision
Adding value
Educating potential customer

Stats
92% of customers read online reviews before buying
70% of people trust reviews from strangers
Customer reviews create 74% increase in product conversion.
Videos trigger emotions. We mirror people
Video has a higher retention rate compared to text Videos are easier to share

How to ask for a video testimonial
'Can you do me a favour'
Opportunity for customers to get involved
View full list of email templates
Interview formats
Formal Interview
Traditional / professional
Interviewer behind camera or facing each other
Considered response
Take longer to organise and film
Quick 'Vox Pop'
Casual, more authentic
Capture opinion and emotion
Quick to film and request
Risky for live broadcasts, if unplanned
Video Conference
Easier to schedule, less travel
People feel more comfortable in own environment
Difficult to control audio/visual quality – Internet speed!
Limited camera angles
Selfie
Authentic / intimate
Easy to request and schedule
Mostly concise. Ask one question
Rely on technical ability of customer
Easier for people to say no. Incentivise?

Questions to ask
Impart trust and proof of your service
Get a testimonial
Share something secret or a tip

Questions to ask
'What's your name and who do you work for'
'What do you do and how do you/your company help people'
'What's one thing you do that people remark on or enjoy'
'What one area have [insert company] helped you in your business'
'If you were to recommend [insert company] to a friend or colleague, what would you say?'
Sample questions you can use for your own interviews

Tips for filming, editing and publishing great video
Filming. Audio first, then lighting
Use external mic, close to mouth. Get rid of external noises. Soft room
Outside or face a window. Turn on all lights. Not backlit
Turn camera on early, avoid starting. Practice run
Sit dow to relax and prevent moving in the shot. Table in front for protection Be positive and be relaxed. People will echo this
Allow time, don't rush. Remove distractions and pressure
Live or recorded?
Shared immediately
Cannot correct or fix
Make sure to warm people up Record 'as live'
Cut aways
Filming extra footage 'B roll'
Buildings, products, people milling (soft focus)
Get more than you think you need
Use another camera for alternate angles
Editing. Story is key
Jump cuts or hidden edits
Make notes of good takes.
Use mini whiteboard
Start with the best interview clips
Edit out dupes, cough, ems etc Remove waffle
Hiding edits
Two camera angles
Behind interviewee's head
Noddy shots of interviewer
Cut away shots that relate to conversation

Publishing
YouTube / Vimeo
Create your own Thumbnail. Optimise for smiles
Embed on blog post or client page
Add mini text transcript to video or add to blog
Title for SEO so people can find e.g. 'Avigilon camera review'

The kit Ben uses
iPhone 7. iPhone 11 has better cameras
Shure MV5 mic. Tie clips would be better for formal interviews
Clips on iPhone for quick social posts
iMovie or Final cut for formal edits (macOS / iPhone)
Manfrotto tripod.
Joby iPhone mount
Mini whiteboard (new idea)
Understanding YouTube analytics and getting more engagement from your channel.
Notes
Why use video
Easy for visitors to watch Helps with SEO
YouTube stats
Worlds 2nd largest search engine 63 million daily viewers Average CPV $0.044 (3p)
businessofapps.com/data/youtube-statistics/
Selmach Case study
Reduced dropout Increase subscribers Get more goals
Plan
YouTube delivered most visits and often goals
Review stats and optimise engagement
Want to increase subscribers to get more website visits and goals
Most visits from YouTube
Traffic source
High drop off during static title image

Subscriptions increase
YouTube Optimisation tips
Optimise keywords
Research what people are looking for Similar rules as on page SEO
Add keywords into the title
Videos indexed faster than web pages
Get to the action within the first five seconds Remove boring bits to keep the pace
Don't be boring
Know your audience
Watch other videos your audience might like
Check your retention stats to see where people drop out
Ask for action
Include a call to action
Link to your website in the first two lines of the description
inventivepeople.co.uk/collections/video- production
Observations on Tom Hanks in conversation, with advice you can use to be a better presenter on video, in a workshop or even chatting down the pub.
Here's a few tips I noted from the video
Create a story gap – Peak peoples interest with the promise of an exciting story.
Pantomime what you are saying – Use hand gestures and movement to act our what you are saying.
Be dynamic – Shift a story's focus from sad to happy or move your voice from loud to quiet.
Include everyone – Make good eye contact (three seconds or so) so that people feel what you are saying is relevant to them, that they are included.
The last point, on eye contact, I've found particularly helpful in boosting my confidence when talking to a large group of people.
I've always enjoyed films featuring Tom Hanks from Big (his earliest film that I remember watching), to Castaway, Saving Private Ryan and Forest Gump, which is on my rewatch list.
Ben Kinnaird
April 17, 2020
For businesses who don't have resources to create videos from scratch, Video Builder can help. It's a free beta tool that animates static assets—images, text and logos—with music from our library. You can choose from a variety of layouts based on your message and goals, customize colors and font and quickly generate a short YouTube video (6 seconds or 15 seconds).
Sign up for beta access
Subscribe on YouTube, Apple Podcasts or Android.
Ben talks with Edward White from ATLIVE to discuss how he got into film making and developing his own style.
The sponsor for this episode is 34SP. A Fast, Secure and Managed WordPress host based in the UK. Visit 34sp.com and use the code WPINVENTIVE at checkout to get your first three months of hosting completely free.
(more…)
Subscribe on YouTube, Apple Podcasts or Android.
Ben talks with Jonathan Mahan from Bombbomb on how video improves business and gathers some tips on how to get comfortable on camera.
The sponsor for this episode is 34SP. A Fast, Secure and Managed WordPress host based in the UK. Visit 34sp.com and use the code WPINVENTIVE at checkout to get your first three months of hosting completely free.
---
(more…)
Subscribe on YouTube, Apple Podcasts or Android.
After spending three days, attending 12 talks and walking over 20,000 steps, I'm back from Bath Digital Festival. I was lucky enough to interview some of the speakers and attendees to bring you a flavour of the state of technology and marketing in 2019.
It's a fully packed episode and I hope you enjoy it.
The sponsor for this episode is 34SP. A Fast, Secure and Managed WordPress host based in the UK. Visit 34sp.com and use the code WPINVENTIVE at checkout to get your first three months of hosting completely free.
(more…)
Ben talks to Tom Ross, the founder of DesignCuts.com (and fellow podcaster) about creativity within marketing and how he balances building a community of contributors whilst marketing to customers.

Something Inventive is an entertaining and lively podcast on creativity and the web. Subscribe on Apple Podcasts or search for 'Something Inventive' in your favourite podcast player.
---
Episode sponsored by our SEO report
Check out our laser focused SEO report. If you need to build up your traffic then this report is for you! Mention our podcast when your order and get 10% off.
Show notes
Image Credit: Tom Ross portrait. Banner Image Credit: Image of Tom Ross sat in a meeting.
Clare Harris
January 15, 2019
In this interview Ben managed to catch Dan Lewis from Free Agent 247 in-between meetings to chat about their free business model and how video plays an important part in their promotional strategy.
Worcester Foregate Street Station
Image Credit: Founder Dan Lewis, FreeAgent247. Banner Image Credit: Image of Dan Lewis sat in a chair reading.
Clare Harris
June 26, 2018
It is easy to get bogged down into the constant struggle of reeling in profitable business. And in a tight economy, it's understandable why we might tighten our belt and trim off the frills. But it's worth remembering that marketing is one of the key strategies for getting in that new business and building the foundations for eventual sales.
Obviously you need to be sensible, so think about your evergreen marketing; by evergreen marketing I am talking about a marketing idea or concept that will last beyond the next couple of hours, weeks or even years, perennially providing you with new strands of business.
The top four evergreen strategies I would recommend investing in are:
Video
One of the top marketing tools to give your customers value or deliver a personal touch, I cannot express how much I value video. Working around the clock on platforms like Vimeo, YouTube you are able to hook business from worldwide markets.
Whether it is a how to guide, vlog, casestudy, testimonial or product overview it will certainly benefit your business. It doesn't have to be overly complicated, less is always more and you may even be surprised at how affordable it is.
If you don't have the capacity to create a short video, think about making a slideshow animation from images or using animated GIFS to help catch your audience's eye.
Website Facelift
In a world of instant gratification and with many of us carrying a computer in our pockets it seems ludicrous if you do not have an online presence. A handful of pages is better than nothing. The absolute basics should be a clear message about who you are, what you can deliver and how to get in touch with you. This is often the first glimpse into your business so make the effort and make sure it gives a professional vibe.
With current online web design sites such as Squarespace or WordPress their really is no excuse. Even hiring a professional web designer is a reasonable cost for most busineses. Giving your site a facelift does not have to be expensive and often needs just a review of the text, images and search optimisation.
Don't have a website? At the very least make sure you have an online presence using a Facebook Business page or Google My Business profile. How else will your customer's find you?
Blogging
Informative and educational articles is where you will capture today's audience. If we want to know something we ask Google.. delving into a world where at a click of a button we can find out how to fix our washing machine or learn how to perfect a certain recipe.
Whether it's an informative article or a more informal account of what is happening in your business. The more information you share online through articles on your site, the more this will help capture your audience. By writing and sharing something of true value you are instinctively building trust with your customer by proving that you know what you are talking about. Sharing helpful tips and tricks will make you more memorable and possibly prompt a return visit or even a recommendation.
It will also help boost your website up the Google ranks as the search engine robots favour sites with quality and relavent content as it increases the amount of time that is spent on the site, reduces the bounce rate and increases the number of pages visited per session.
Don't forget all of the content you are gathering could be translated into a video at a later date!
Case studies
You can huff and puff until the cows go home but nobody can sell your business more than your previous clients. When investing in a new venture or purchase the majority of people these days will search online and read the reviews to help them determine which company they would like to go with. If you are good at what you do, be open. Contact your previous customers and ask them if they would mind giving you a review or sharing some feedback. You never know you might find that you learn something from the feedback which could streamline your business further. Whether it is a short statement, written or filmed interview it will add an extra layer of authenticity whilst reminding them that you still exist and could even prompt further work.
It is important to be careful about what you invest in but don't be afraid to invest in marketing ideas that are fun or novel as often that is the stuff that hooks in your audience. We are all bored and numb to so many of the mainstream marketing campaigns so think of how you can be different and about what your customers would find helpful.
Image credit: Adrenalin by Artem Bali from Pexels
Al and Ben are joined by seasoned podcaster and Mac enthusiast, Karl Madden to talk about the latest iteration of Intelligent Tracking Prevention from Apple. Karl also advocates that every business should get into podcasting or video.
If you have any feedback, ideas or topics you'd like covered on our podcast we'd love to hear from you. Please get in touch via our contact page, leave a voicemail on 0800 881 5805 or mention @RatherInventive on Twitter.

Something Inventive is an entertaining and lively podcast on creativity and the web. Subscribe on Apple Podcasts or search for 'Something Inventive' in your favourite podcast player.
---
Episode sponsored by Ticked-off.com
Check out the sponsor ticked-off.com. When you sign up let us know and I'll extend your trial for 2 months.
Show notes
The Hosts
Al Osmond (@inventiveal) – An unusual mix of logical thinker with a creative eye
Ben Kinnaird (@benkinnaird) – Knower of Social media, SEO and 'the Web'
Be part of the show
Tweet a service or product you'd like to promote, mentioning @RatherInventive and the hashtag #podvert and we'll read it out over the coming episodes.
If you like the show please give us a rating in iTunes and we'll read out your comment. You can do this from the podcast player on Apple.
Thanks for listening!
—
Audio edited by Donalize – 'Goofy Vocal Groove' intro music by Dave Girtsman – Image Credit: Drinking Liquor and Talking On Dining Table Close Up by Helena Lopes on Pexels
Al and Ben talk about the importance of being a fast responder and our thoughts on the WXG 2018 conference.
If you have any feedback, ideas or topics you'd like covered on our podcast we'd love to hear from you. Please get in touch via our contact page, leave a voicemail on 0800 881 5805 or mention @RatherInventive on Twitter.

Something Inventive is an entertaining and lively podcast on creativity and the web. Subscribe on Apple Podcasts or search for 'Something Inventive' in your favourite podcast player.
---
Episode sponsored by Ticked-off.com
Check out the sponsor ticked-off.com. When you sign up let us know and I'll extend your trial for 2 months.
Show notes
The Hosts
Al Osmond (@inventiveal) – An unusual mix of logical thinker with a creative eye
Ben Kinnaird (@benkinnaird) – Knower of Social media, SEO and 'the Web'
Be part of the show
Tweet a service or product you'd like to promote, mentioning @RatherInventive and the hashtag #podvert and we'll read it out over the coming episodes.
If you like the show please give us a rating in iTunes and we'll read out your comment. You can do this from the podcast player on Apple.
Thanks for listening!
—
Audio edited by Donalize – 'Goofy Vocal Groove' intro music by Dave Girtsman – Image Credit: Waiting by Aurimas
Clare Harris
April 11, 2018
Take a big breath and step in front of the camera
We aren't all made for the red carpet and in fact, I don't think you need to be.  With the ever-growing pressure for more visual and personal marketing capturing testimonials and standing in front of the camera to show off your business and wares has grown increasingly popular and is something every business should be considering seriously. People invest in people and as long as you are clear and genuine about what you are trying to say I think you will be surprised at how well you will come across.
Even the most seemingly confident person can feel the pressure when the camera lens is pointing at them so here are my tips on getting the best out of them.
The trick is not to rush
Where possible take your time and make it as pressure-free as possible. If you are against the clock don't let the person in front of the camera feel it as it will only put them off and increase their mistakes.
Forewarn them that you would like to interview/film them. Email your questions/themes of discussion the day before to give them a chance to mentally prepare their answers but don't rehearse or stage their responses let them respond naturally and in their own way.
Be confident
When filming your staff or a customer testimonial be confident for them, keep calm and keep smiling if they are fluffing it up and panicking – respond with encouragement and guidance – always start with a positive and tell them that they are doing well but you would just like to take one more take and if they could just XYZ will make them feel they are doing ok.
Only have the people there which are necessary. It's not helpful having fellow staff members grinning in the background and smirking at them if they are stumbling over their lines.
Warm-up
Before you start ask your subject a few warm-up questions to get them comfortable in front of the camera. This will allow you see whether your set up needs any adjustment or if they move out of frame. Rather than stand in front of the camera a lot of people will feel more comfortable being seated and are less likely to step out of the frame and wave their arms around when they talk.
For really nervous subjects remind them to breathe and to relax their shoulders if they are hunched and tense. Literally, ask them to raise and drop their shoulders a few times and take big breaths. Do it with them and they are more likely to mimic you and be less self conscious. If their mind goes blank on a certain phrase change tack and break it up. Don't expect them to monologue long scripts.
Questions
When you ask your subject the question, ensure they say the question in their answer to make sure what they are saying makes sense when you come to edit it. For example: "What impressed you particularly about our ABC product?" Their answer would be: "I was particularly impressed by the quality and efficiency of the ABC product."
When answering your questions ask your subject to look and speak towards the top of the camera and to look past the lens. Make sure the person who is asking the questions is stood directly behind the camera to ensure their eyes and body language doesn't instinctively gravitate towards them and away from the camera.
Take one more take
Don't be afraid to take a couple of shots of the important stuff to ensure you definitely have it. There is no harm in asking them to repeat what they said as it is better to spend a few minutes refining and re-recording a question than having to come back and shoot it all again. If in doubt, capture it one more time.
Be sneaky
Last of all don't always let them know you are filming or pretend you are capturing a dummy run – you'll be amazed at how many times people can do it on the cuff without the pressure of thinking they are being recorded!
Image Credit: Camera Operator Setting Up Video Camera by jsawkins Flickr
I am sure you have encountered them, people who brashly sell themselves and tell you how great they are… at everything! If you have been to Tenerife they have undoubtedly been yachting at Elevenerife!
It is incredible how some people still get swept away with this but if you look closely and listen carefully, it's usually nothing more than overcooked fluff. Over time, their initial supporters learn the hard way and will eventually notice they are not quite what they have projected themselves to be.
For some people, it comes easily to shout about how awesome they are but if you are like me, then you might struggle with doing that convincingly. What if you could get someone else to promote you instead?
Reconnect with your customer
Gathering customer testimonials not only allows you to reconnect and stay fresh in your consumer's mind but creates more credibility for you and your business. Being able to peruse other customer feedback and evaluate your company and product automatically increases the confidence of your audience and instils a stronger chance of investment when they do make contact with you.
The following testimonial was collected as part of our project feedback request with the client.
"I felt totally supported by RI throughout the [web] project and I thought we worked really well as a team to achieve the final result. The overall knowledge, skills and experience that RI has is impressive and I was delighted with the high level of customer service throughout the project from all members of the team."
Abbots Hill School for Girls
Text is good but video is better
Text-based testimonials are good but in a generation who are skimming through the lines and reading less, you are more likely to get noticed with a video. Having real people in your testimonials and not airbrushed stock images is more likely to draw in and immerse your audience. By being able to see the person reviewing your service humanises your business and helps create that personal connection. By indirectly showing them how you can help their business, solve their problems and hear why other people thought you were the best choice will only strengthen your allure.
Testimonial video from Matt at Witley Jones
There is virtually no cost in posting a testimonial online, whether in text form on LinkedIn or on a video platform like YouTube. With the click of a button your videos can be easily shared and within seconds you can appeal to a multitude of your customer segments. Remember, what goes on the internet stays on the internet and your testimonial will be working around the clock reaching out across the continents to viewers from all walks of life.
Why not contact one of your customers to see if they would like to share their thoughts with you?
Find out how we can help you use video effectively in your business.
—
Image Credit: Win by Lisa Risager
Clare Harris
January 29, 2018
Within the first 7 seconds, we can all determine whether a film is of interest and at a professional standard. Due to the sheer quantity of visual stimulation, we each experience on a daily basis essentially makes us all film critics who can quickly cut through the chaff and determine what is a good video.  So, you could say that creating a great video has got that little bit harder. Here are seven tips that will help you make your video into a great one.
Storyboard
First and foremost, make the time to storyboard and script your film. This will help take the pressure out of making it up on the spot when the camera is staring at you. It will allow you to be efficient and capture only what you need which will ultimately save you time and money. It may also throw up the need to coordinate with others, gather any necessary permissions and an opportunity to work through any potential problems.
Realistic
Be realistic about what you can achieve; think about the time and resources you have available. In the world of video, what you see in the lens is what you get. It is not so easy to photoshop out the tatty background or change what you have captured. Avoid creating work for yourself by saying you will adjust it in the edit, get it right to start with.
Check and recheck
Once you have set up and framed your shot, check to see if the background is tidy, whether the white balance is accurate, whether you have set your camera to record at the correct frame rate, check your microphone is working and your camera is tightly secured your camera onto a tripod.
Unforgiving Eyes
Some of us have more forgiving eyes than other so as much as it pains me to say it, the video quality of your piece is not necessarily as important as having a good, strong story and message within your film. You could technically get away with slightly the shaky shots, poor lighting, cluttered backgrounds, grainy film quality and a Homer Simpsons complexion if the bones of what you are trying to convey are of interest and presented well. However, and I can't stress this enough if you take the time to look at the things I have listed you will certainly make an average video into a much greater video.
Equally, if you have spoken audio in the film, the quality of your sound is more important than your story and visuals as poor sound quality will instinctively shut down your audience.
So when you start to plan your video try to get your story, sound, and visuals in an equal Librium to ensure you have an effective, impactful film.
Keep it Simple
If you are new to filmmaking and are not a natural presenter don't make a long script, keep it simple. Break down what you need to say into short, simple sentences and change your camera angle to avoid long static monologues. Brochure text is not a video script. What sounds good on the page can feel stiff in front of the camera.
Aim for a 1min video. You will be surprised at how much you can pack into a minute and how much effort it takes to create a minute of quality content. Any film, over 5mins in marketing, is an eternity – so definitely keep it short and snappy.
Relax
Make sure that the person you are filming is comfortable in front of the camera otherwise you could make the viewer feel uncomfortable watching them squirm. Even if you are a confident public speaker you will be surprised how difficult it is to remember your lines when the cold eye of the camera lens is staring at them.
Try to read your presenter to gauge how comfortable they are. If they are tense, rushing through their lines or stumbling over their words stay positive. Get them to practice a few times and quietly keep the camera rolling they may just nail it the first time. Keep smiling and stay calm, don't clock watch them or apply any pressure. Maybe change the words slightly if they are getting hung up on a particular phrase. Deep breaths and shoulder shrugs will help reduce any tense posture and keep them visually looking more relaxed.
Audience
Know your audience and tailor your video to pique their interests. What do they want to know? Rather than creating a purely selling video could you share knowledge, testimonial or an experience?
Let your audience know you, people invest in people. If you plan to film regularly brand your videos with your logo so they can't be repurposed by other companies and your clients can recognise your brand.
Hopefully, these helpful pointers might help you stand out from the crowd for the right reasons.
Image credit: Alienated by Taylor McBride – Flickr
A great video can help you capture your audience on a more sociable level and show off your company's personality and product quality without drowning them in large chunks of text. As the saying goes, a picture can speak 1000 words so imagine how many you could say when it is moving. On the practical side of things, it can also help draw more traffic to your site via SEO and quickly showcase your services and products without having to write big blocks of text.
In a generation where we are all becoming more self-sufficient and can replace skilled professionals with apps and digital devices, video is not as out of reach as you might think. You would be amazed at what can be achieved with a DSLR or a mobile phone even.
I am sure many of you will agree that standing out in your marketing is getting harder, and it is important to ensure you stand out for the right reasons. Whether you attempt to film in-house or get a professional in, a video will certainly help you stand out but you need to ensure it has a clear story, is cleanly shot and the content is of interest.
I must admit, I am becoming numb to a lot of the clever marketing strategies as I find a lot of it has lost the personal touch. For me I much more inclined to invest in the people, the company ethos and quality over anything else.
Video can help you open this door, without the pressure of a dogged sales person breathing down your collar pushing for an impulsive decision or worst engaging in the uncomfortable standoff, of 'I am not interested'. A video can provide that personal touch and allow the viewer to look behind the curtain and indirectly get the information they need to inform their decision. By being able to communicate through moving image, sound and movement you are able to resonate with an individual on multiple levels leaving a much longer, lasting impression. It can be replayed and digested at the customers own pace.
Like many of us, I am guilty of being attached to digital technology long into the evenings after working hours so your 2min video is not only giving your customers a low pressure, friendly insight into your business but it is also working around the clock capturing and luring in potential business. Reaching out to a wider audience worldwide and to places which you wouldn't have expected to capture.
By allowing your customer to have a more voyeuristic experience and the time to contemplate their decisions often in the comfort of our own homes ensures a more committed customer.
There are loads of different styles of video used in marketing case studies, knowledge focus, testimonials, interviews, highlights etc so evaluate what would be appropriate to your business.
Let us know what video has worked for you?
Louise Kinnaird
October 17, 2017
Do you look at reviews before you buy a product? Have you ever got into a long line outside a club or restaurant because you thought it must be good? This is social proof at play –  and you can use it to your advantage.
There'll be many reasons your prospects want to buy from you – good product, service or price. But ultimately what convinces them to make the final decision is the reassurance that you are reliable and trustworthy. And there is no better reassurance than a peer-to-peer recommendation.
Case studies can demonstrate more effectively than anything else how your product or service can help prospects achieve their goals. Having someone impartial tell their story about your business and how it has helped them, will have so much more influence on a prospect's decision to buy, than your words alone ever could.
Social Proof is the reason why funny cat videos go viral, why we check out reviews of products before we buy something online, and why we 'like' on Facebook, 'Tweet' on Twitter and 'pin' on Pinterest. Social proof is the reason for the 'first follower' – the reason why, once one person does something or follows something, others will follow suit because it feels like a safe choice. We trust other individuals like us and are influenced by them, and we will adapt their behavior according to what other people are doing.
'User' social proof is just one of many different types of social proof (including Expert, Celebrity, User, Wisdom of the Crowd and Wisdom of friends, all of which rely on others to influence us to take action). User social proof is particularly beneficial for your business because it is offering positive feedback from actual users of your products.
BUT there is an even more convincing type of social proof. This is where your 'user' is telling his story using video. Through the medium of film, your customer is actually engaging directly with the viewer, bringing their story to life with real emotion and enthusiasm, and making their experience so much more real. This has the effect of building trust in your business and authenticity in your brand because video adds gravitas and authenticity to the story being told. 
And the demand for video is increasing. Research has shown that 43% of people want to see more video content from marketers? and 51.9% of marketing professionals worldwide name video as the type of content with the best ROI?
Social proof is a very powerful psychological motivator that businesses can utilise in order to influence potentials. But the business that uses video to capture its customers experience, where they can demonstrate their authenticity and leave viewers in no doubt as to the quality of the product or service they are endorsing, is a very savvy one indeed.
This case study video shows Communion Architects revealing how Rather Inventive has helped them. 
With video case studies, you don't need to blow your own horn, your happy customers will do it for you, on film. How's that for an endorsement!
—
Image Credit: Karunakar Rayker, Life On The Wire
Ben Kinnaird
February 21, 2017
I spent a day with the team at Ecl-ips back in January to experiment with some different and more exciting product video for a new 360 degree ceiling camera from Avigilon.
Previously Stephen, a project engineer ar Ecl-ips, was attempting to record the entire video in one go but this meant that if there were any mistakes he would need to record the entire video again. While his early videos are ok I wanted to help make them a little more interesting, have a higher production quality and be easier and quicker to produce – Here's what how it went
First, watch my intro

Then watch the resulting video

Well done to Nicky, Stephen and Aaron at Ecl-ips who after a little tuition managed all the filming and editing themselves.
Equipment used on the shoot
iMac with iMovie editing software
iPhone 7 for record the audio from the Shure MV5
Canon EOS 7D Digital SLR camera to record the main footage and cutaways. Note the external mic output sounded awful
Good old paper for the script
—
Music: Upbeat from Audio Jungle
Ben Kinnaird
February 3, 2016
A client is just starting a webinar series and asked me for a few ideas to make sure they were on the right track.
While I had some ideas I wanted to get input from good friends Astute Graphics who have run numerous online and physical events in the pursuit of educating their customers.
Here's Nick from Astute's top tips
Invest in time to build up a loyal attendee base.
It's not going to happen overnight; the first webinar may only have 10 or less attendees, but then in a year a regular group of 50 attendees or more should be within range. Depending on your goals for hosting webinars, this should be worthwhile as these attendees are likely to be your most loyal customers or advocates.
What's in it for the attendees?
Even free webinars need to offer good content to ensure that potential attendees are attracted to the current and future events. Any sales message should be kept to an absolute minimum – people won't make time to attend only to be advertised to. Remember that planning and preparing to present great material is not an overnight task and that each webinar could take up to a week to hone. To check that you're aligned with your attendees' expectations, simply ask them directly in the webinar using a polling mechanism of personal follow-up.
Build an active emailing list to inform previous registrants of future events.
Typically for free events, only 30-50% of registrants actually attend for a regular session – don't dismiss those who couldn't make it as life happens to everybody. Pulling those missing sheep into the flock in future events is key to building up a solid group.
Check out their recent webinars on AG's eye-poppingly colourful website.
—
Image credit: Astute Graphics