Wise words from Seth's article on How (not) to miss a deadline
'Don't rely on false deadlines as a form of incentive. It won't work the same on everyone, which means that some people will take you at your word and actually deliver on time, while others will assume that it was simply a guideline. It's more efficient to be clear and to help people understand from the outset what you mean by a deadline. The boy cried wolf but the villagers didn't come.'
I am guilty of placing a project deadline in the sand to help motivate me (and the client). It can work well to muster effort to get the website live. But I've given up doing this for small tasks. Assigning due dates to everything leads to not trusting if the deadline is real or just a guide, as well as additional stress and constant badgering from our to-do app. I've come to add deadlines only to the tasks that NEED to be completed on a certain date as well as blocking ourt time in my calendar to do them.
Ben Kinnaird
April 1, 2021
A great explainer from Seth on what trademarks are, well worth a listen.
Until listening I was ignorant of the difference between the ™ symbol and the ® symbol. One is legally recognised and registered and the other is your assertion of an unregistered trademark.
Ben Kinnaird
March 15, 2021
Matt Saunders writing on how to build rapport clients.
'Repeat business is important because the average repeat customer spends 67% more in months 31-36 of their relationship with a business than they do in months 0-6. This particular study pertains to e-commerce sales but I have seen similar patterns in the B2B space also. It's really all about trust. Once you've earned it, they'll come back for more.'
I cannot correlate the percentages but I know that I win more business from clients that I work with regularly. In fact just regularly communicating with clients I've found will stimulate business either by giving them ideas or keeping my business front of mind.
Matt's article is specific to his industry but a lot of the advice works for any business. He outlines the following tips:
Get process in place – You'll look and be more professional and work will be easier to manage
Don't hide behind your email – Find other ways to communicate with them: in-person, video call, gifts, referrals
Get to know you clients – You'll be able to serve them better and it's rewarding for your soul if you have a genuine connection
Build long term relationships – Time spent will pay dividends in future work and referrals
Self development – Listen to the best podcasts and audio books available. Ask clients for their favourites and share yours with them
Clare Harris
March 11, 2021
Subscribe on YouTube, Apple Podcasts or Android.
This is the final of 6 episodes in which I'll be walking you through the foundation level of my Marketing Strategy. I'm going give you ideas, advice and guidelines in a simple, step by step process that will work for any startup or business new to marketing.
The episodes cover Planning, Stats and Analytics, Website Development, Search Engine Optimisation, Social Media and Business tasks that you need to do to give you marketing strategy a great foundation.
If you want to jump ahead everything I'm talking about is available online now ratherinventive.com/marketing-strategy
For now here's part 6 and it's about Business. Enjoy.
👋 If you found this podcast interesting you might like my Marketing Club. Join to receive regular tips and advice on marketing, video and the web and Pro Members get access to my live marketing webinars every month, exclusive discounts and other perks. Find out more here https://ratherinventive.com/club/
(more…)
Ben Kinnaird
February 8, 2021
Shannon Rawlins sheds some light on this shady company. Via Fran Roberts.
'No, PicRights is not a scam. What they are doing is entirely legal. In fact, they are serving to enforce the already-existing laws surrounding copyright. They have major clients and work with real law firms.

However, just because it's not an illegal scam, that doesn't mean what they are doing is right.

Hounding people for money and threatening to take them to court if they don't pay up is unscrupulous, especially when they instigate the case themselves, not on behalf of the copyright-owner.'
If you've been contacted by a company claiming that you have used an image or video without permission. Take the notice seriously but don't panic and read the article above first.
Further reading:
Clare Harris
October 20, 2020
From claiming your listing, setting the correct categories to optimising for local SEO
Notes
Why use Google My Business (GMB)
Only way to get into the local pack
Small factor (<9%) in regular SEO
Get a knowledge panel Collect reviews
Control of your map listing – Anyone with a Google account could: suggest an edit, post photos, ask awkward questions
Screen-share of Google My businessCreating/claiming a listing
Getting your profile info order https://business.google.com/dashboard/l/11925252192446860058
Add Products / Services
Recent updates to this as now split into categories, worth reviewing
May have products instead (dependant on category)
Add Photos and videos
Photos
Anything that showcases your business
Identity – Business logo, cover image, etc
Team – your team in action, around the office, etc
If you category allows: 360, Inside and out of office or store
Videos
A welcome video or tour of the store
Why your company stands out versus the competition
The company mission, and goals.
An inside look at daily operations and customer interactions
Customer testimonials
Owner, employees, or customers interviews
Answer FAQs
Posts
What's New – Limited to seven days, can be up to 1000 words. General updates, blog posts, customer showcase
Events – Promote an event you are hosting, involved in, or supporting. All events require a title, start & end dates, and time. Add a description and details too.
Offers: If you are having any promotions, sales, or coupons, you can use this post type to showcase them. Like events, offers also require titles, start & end dates, and time-frame. The "View offer" CTA is automatically added.
Questions & answers
Make sure to monitor, I don't always get emails
Create your own FAQs
Perhaps ask clients to seed the questions for you?
Reviews
Other tips
If have duplicate listings, incorrect details. Get someone else to 'Suggest an Edit' very powerful way of correcting mistakes
Call tracking on website – Change phone number depending on website source. Speak with Ben if you'd like to implement this
Add extra users – For marketing team or in case you lose access
Apple maps connect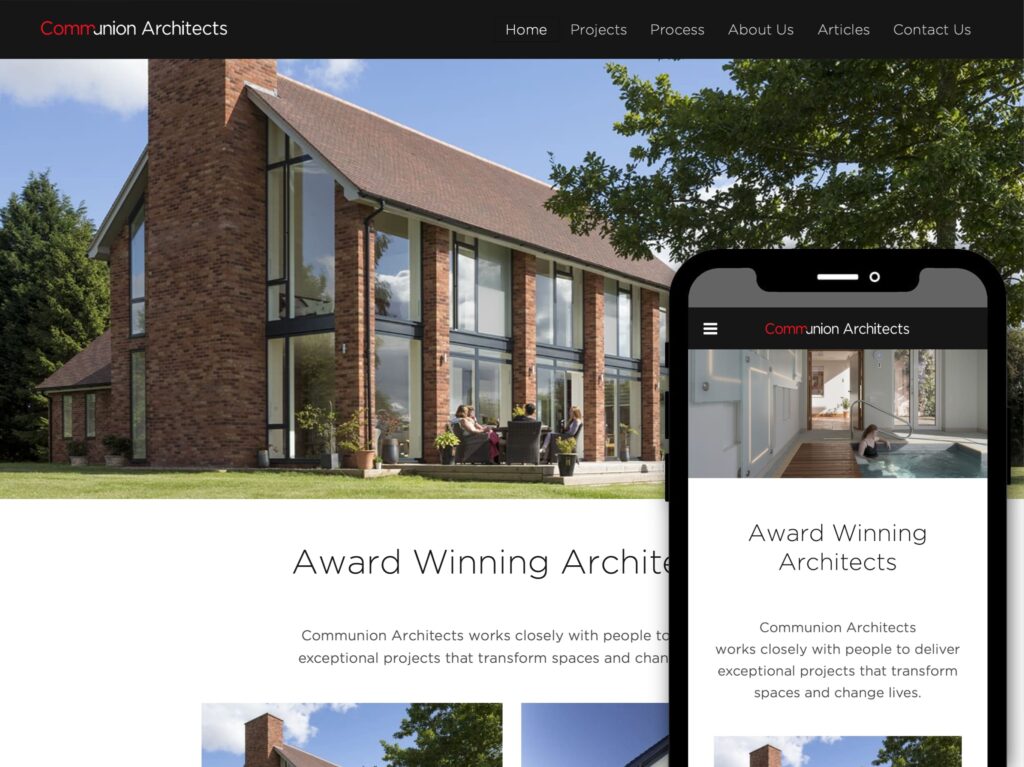 When Alex Coppock from Communion Architects first approached us in 2012, he was keen to explore ways to improve search engine rankings and bring more visitors to his website. Since then, his website has remained in top two organic keyword positions and website traffic has grown 10x.
Alex has always taken a very thoughtful approach to his website and I invited him to write an article reflecting on his journey with his website. What follows are his thoughts on how he has changed the way projects are featured on his website over the years from a simple way to showcase the buildings Communion has worked on to something that has a much wider purpose. To my mind, the shift beautifully reflects Communion's generous, people-focused spirit and its mission statement – working closely with people to deliver exceptional projects that transform spaces and change lives.
I'll let Alex tell the story from here…
(more…)
Ben Kinnaird
June 10, 2020
An fun insight into the insane business model of big tech and pizza delivery by Ranjan Roy
'If someone could pay Doordash $16 a pizza, and Doordash would pay his restaurant $24 a pizza, then he should clearly just order pizzas himself via Doordash, all day long. You'd net a clean $8 profit per pizza.'
The business model of companies like Doordash, Uber and originally Facebook to dominate at all costs, seems crazy to me. I understand the logic but cannot help feel it is not sustainable, ethical or profitable for most people unless you are either the winner (Facebook has clearly won in the social space) or an investor as part of your spread bet. And even then it's still not ethical. If you win, you win big but for most people, they lose.
Ranjan also mentions ZIRP (Zero-Interest-Rate Policy) and links out to another fascinating article on the topic. If I understand it correctly, it's about risk and how risky ventures are more attractive when other rates of return are low. Given the extremely low-interest rates at the moment I expect we might see even more risk.
Paul Boag writing for Smashing magazine on How To Convince Others Not To Use Dark Patterns
'Brands always used to be able to get away with manipulation because consumers were mostly unaware of being manipulated. Even if they did realize(sic), the choice was limited, and so there was very little they could do. That is no longer true. The web has changed that.

We need to help management realize the fact that consumers have changed. That in every consumer's pocket is instant access to every other company on the planet that offers the same thing as you. It is so easy to find your competitors and so simple to swap that one small annoyance is enough to make people switch.'
Dark patterns are tricks to make people do things they don't mean to do. You've probably come across them on an airline website when booking seats or paying extra for insurance. Find out more about what they look like here.
While these tricks seem like a clever way to up-sell, here's an example Paul cites as a reason why dark patterns are not as profitable as they might seem.
'Sure enough, the sales of filters skyrocketed, and the e-commerce team was pleased because they were one step closer to meeting their targets.

Unfortunately what they were not aware of was what was happening elsewhere in the company.

The marketing team who ran the companies social media channels found themselves having to spend time addressing complaints on Twitter and Facebook.

The customer support team received an increase in calls asking for refunds or complaining. Each call was costing the company £3.21, more than the profit margin on the filters.'
Subscribe on YouTube, Apple Podcasts or Android.
Ben met Gina during a demonstration of how to make a fermented tea called Kombucha, at a small food fair run by River Cottage down in Axminster. He was fascinated by the process of this magical gut reviving drink but also in her passion and clarity of the presentation.
Ben caught up with Gina a few of weeks later to find out about her company Wild Fizz and how she got started. Gina's story and openness on her business are well worth listening to.
(more…)
I've worked with the Sustainable Kitchens team in Bristol for over 2 years now but I wanted to step back and get some perspective from Nicky Spear, head of development and dare I say head of "getting things done", on how they are developing internal processes to keep up with their fantastic growth.
Find Nicky and the team @itWoodwork or visit sustainablekitchens.co.uk.
Surfdome – "Whether it's the beach, the mountain or the street – we feel your passion"
Project dirt – "the UK's most active network connecting and resourcing environmental and community projects."
Xero accounting package
Asana to-do list and sheduling
Teamweek, linear calendar to replace paper note planning board
Kudos to @InventiveAl for designing the SK website
Houzz – Interiors and home products articles and portfolio
The Local's Cookbook, Sri Lanka
Jon Lewin, food photographer
Honest living… New sister company, selling beautiful products, coming soon
Recorded at the Curio lounge in Stroud (I recommend the mid-week breakfast). Crying courtesy of SK co-owner Sam's baby Eli.
After receiving an intriguing promotional book called "I didn't know they could do that" from Print Strategy I wanted to find out how well it's been working for them so got in touch with MD Rob Newton1. We also talked about the future of print and how it's beneficial to modern marketing.
Follow Print Strategy on Twitter @printstrategy or visit their website printstrategy.eu.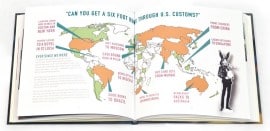 —
1. This is my first Skype interview, I've love to hear what you think of it on Twitter @BenKinnaird.